THE TRIED AND TRUSTED FORMULA
Our self Managed London Treasure Hunts have become extremely popular as team building activities as well as with hen parties, birthday parties, and even with groups of friends just seeking a fun day or night out in London.
They also provide companies with the opportunity to undertake a fun event at a fraction of the cost of similar products, leaving more budget to spend on a meal or drinks after the treasure hunt.
The treasure hunts can be done at your own pace and at a time of your choosing, and you can take as many breaks as you want as you make your way around the Treasure Hunt Route.
---
"A LOT OF FUN WAS HAD BY ALL"
I just thought I would let you know that the Hunt you put together for us was superb.
The whole party had a great day, the hunt was extremely well prepared with excellent clues, questions and a lot of fun was had by all.... with the odd stop over at local pubs to gather info!!!
Thanks again for supplying an excellent package, I will definitely be recommending your services in the future.
Regards,
Dan Bungay
---
THE TREASURE HUNTS WE OFFER ARE QUALITY PRODUCTS
Our treasure hunts are not simple print-outs that consist of sheets of directions together with a list of questions for the teams to answer.
Each of our treasure hunt packs is produced to a very high and exacting standard.
Each team has a plastic wallet that contains the treasure hunt sheets.
These are all full colour sheets which are printed onto high quality waterproof paper, which can be written on even when wet, and which does not disintegrate, even in the heaviest downpours.
In addition each wallet also contains a pen for writing the answers to the questions and challenges onto the waterproof sheets.
Teams can also use the blank back of the Photo Challenge sheet to make notes on as they make their way around the treasure hunt route.
As a result, when you partake of one of our cunning conundrums, you are guaranteed a fun few hours, in the course of which you will discover some amazing and fascinating places that, even if you've worked or lived in the area for many years, you might not be aware of.
YOU'LL REALLY START TO SEE THINGS
Many of our clients comment on how our treasure hunts made them look and take note of the area, and, in so doing, they leave the event with a far better undertanding of the streets, buildings and hidden treasures that they encountered as they went round.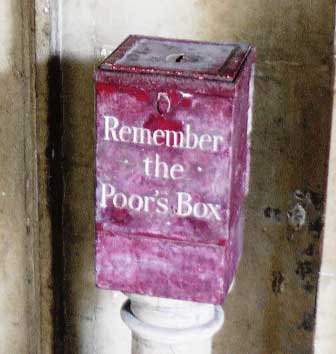 Take, for example, the red "Remember The Poor's Box".
It dates from the late 18th century; and it's located on one of our City of London Treasure Hunts.
Chances are you's passed it many times and not actually noticed it. Yet, if you are participating in that particular challenge, you will notice it, and you will learn all about it.
So much so that you'll be aching to bring your friends and family back and tell them all about your new discovery.
In essence that is what our treasure hunts to.
They introduce you to things that are hiding in plain sight, and you not only notice them, but you also get to know al about them as well.
London has so much to offer by way of varied and interesting routes for a treasure hunt, and our planning expertise ensures that each of our quests provides participants with an activity that is both challenging and fun whilst, at the same time, enabling them to discover and explore away from the busy main roads and well known locations.
---
"GREAT VALUE FOR MONEY"
This is just a quick email to say thank you very much for the Treasure Hunt you supplied us for Friday.
It was great value for money, very well thought out, the packs looked lovely and we all had a fantastic time.
Not only that, but there are some lovely hidden gems in and around King's Cross that we have now discovered!
Once again, many thanks.
Regards,
Laura Fox
Skillset
---
NO PRIOR KNOWLEDGE OF THE AREA REQUIRED
Because all the Cryptic Clues are visual, and the Observation Questions and Photo Challenges concern information they will pass in the course of their event, teams will not need to have any prior knowledge of the area, not of the history of the area.
Indeed, prior knowledge can prove more of hindrance than a help, as the teams might make presumptions based on what they know of the area rather than analysing what the clue is telling them to look for.
WE'RE WITH YOU EVERY STEP OF THE WAY

Although you will be managing the actual event yourself we're there to help you every step of the way.
We will provide you with a sheet of guidelines as to how best to run and mark the treasure hunt.
Should you be unsure of anything you have a telephone hotline that you can call and we can talk you through any aspect of the London treasure hunt you have booked.
If you wish we can also talk you through the route of your chosen treasure hunt step by step.
As far as marking your treasure hunt goes, we also provide you with a sealed envelope that will contain all the answers to the Observation Questions and Photo Challenges.
So you can rest assured that, despite it being a self managed DIY treasure hunt that you have chosen, the Treasure Hunt People will be there for you throughout the planning and organising to lend our expertise and ensure that you get the maximum benefit and enjoyment from your DIY London Treasure Hunt.
---
"A TRULY SUCCESFUL TEAM EVENT"
Just writing to let you know that the team had a truly fantastic time with the Treasure Hunt.
It made us explore the Fleet Street and Temple area, the way that we would not have done so otherwise.
A truly successful team event, and one that is also very reasonably priced.
The thing we liked most is the flexibility and that the organisers could also take part in them.
Thank you.
Regards,
Bee
EMEA SALES
---
YOU HAVE COMPLETE CONTROL AND FLEXIBILITY
The great thing about the self-managed treasure hunt option is that you have total control over every aspect of the event.
This makes for an event that is truly versatile should, for example, your plans change at the last minute.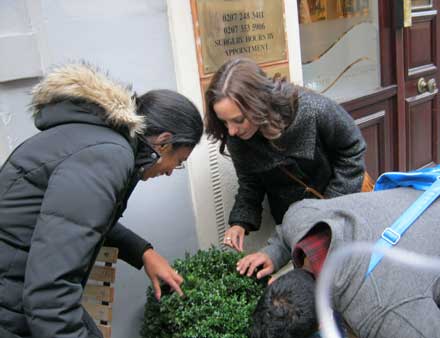 Perhaps it is pouring with rain on the day you intend to do your London treasure hunt? No problem. Since you are in charge of when the treasure hunt takes place you can simply reschedule the event for another day.
Suppose an important last minute meeting comes up that your fellow participants simply have to attend? Again, since you are in full control of when you do your treasure hunt you can postpone it to a more convenient time when all the participants can attend.
That is why our DIY London Treasure Hunts have proved so popular over the years.
They give you maximum flexibility to run the event as and when it suits you.
OUR TREASURE HUNTS ARE ALWAYS UP TO DATE
Each of the self managed treasure hunt routes is walked once a month to ensure that it is up to date so you need have no worry about the package you purchase being current.
We post on the web page for each of our self-managed London Treasure hunts the date it was last checked along with the number of changes we had to make to the treasure hunt when we last walked the route.
This way you can see for yourself just how up to date the treasure hunt is before you purchase it.
WE'LL UPDATE YOUR PACKS IF ANYTHING CHANGES

When we receive your treasure hunt order we will email you and ask what date you are planning to do the treasure hunt and ask for a contact phone number.
If anything changes on the route between the date we dispatch your treasure hunt and the date on which you will be doing the treasure hunt, we'll call you to let you know and then we'll send you the updated version at no extra charge.
---
"LOOKING FORWARD TO FUTURE TREASURE HUNTS"
Extra special thanks for double-checking the Greenwich route twice beforehand, and for making last minute necessary changes to the clues!
Thanks again for a well-organised, fun pack.
I'm looking forward to future treasure hunts in other parts of London!
With kind regards,
Michelle Ringer
Save The Children
---
SO WHY NOT GIVE US A TRY?

We are 100% committed to ensuring our treasure hunts are up to date, so you can rest assured that the treasure hunt will go without a hitch on the day. We are, quite literally, fanatical about our service.
We are the London Treasure Hunt specialists, and the quality of our products, together with our excellent customer service, have helped make us a market leader in our field.
From the moment you purchase one of our self managed treasure hunt packages you can be certain that we'll do our utmost to ensure you have the best time imaginable and you can rest assured to know that we'll be there for you should you have any questions or worries about operating your event.