WHO ENTERS HERE LEAVES NOISE BEHIND
The Temple, with its picturesque courtyards, hidden passageways and ancient cloisters, is a genuine part of secret London. Charles Dickens wrote of it that you "...can read on its gates 'who enters here leaves noise behind'.." and that description still holds true today.
KNIGHTS TEMPLAR, DA VINCI CODE AND SHERLOCK HOLMES
It was here that the Knights Templar established their London Citadel and it is here that the Round Church they built in 1185 can still be seen and visited.
Indeed it was an area that played an integral role in Dan Brown's The Da Vinci Code and several of the scenes for the subsequent film were shot around here.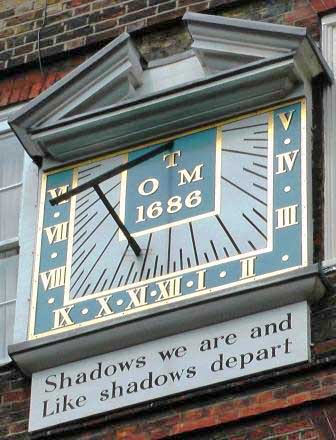 Furthermore, one of the arches that you pass under in the course of your Fleets Street and Temple Treasure Hunt featured prominently in the first of Guy Ritchie's Sherlock Holmes films.
So what better area in which to set out a cunningly fiendish Treasure Hunt that takes you through some of London's most atmospheric and least changed places.
Places that are well and truly cobwebbed by time and where bygone residents have included the likes of William Makepeace Thackeray, Oliver Goldsmith, John Mortimer and a leading contender for the mantle of having been Jack the Ripper.
Whilst, in more recent times, the likes of Tony Blair, Tom Hanks, Kiefer Sutherland and Miss Piggy and Mary Poppins have traipsed its cloisterly courtyards.
THIS TREASURE HUNT HAS IT ALL!
From the ancient burial ground where the Knights Templar lie at rest; to the glorious exterior of a 16th century dining hall inside which Shakespeare once acted.
It's an area of which Charles Lamb, who pops up as one of our clues, said "men would pay dearly to be born in such places as this," and he should know, he was born here in 1775.
THE CLUES ARE SECRETED IN SOME AMAZING LOCATIONS

We have laid out our cryptic clues in such a way that you will really have to delve into this fascinating and timeless part of London.
But, as you do so, you'll uncover a wealth of places that you would never dream still existed, whilst at the same time discovering little enclaves of the capital that are far removed from the rush and bustle of the modern age.
You'll venture into the old churchyard where the Knights Templar have lain for night on 800 years.
You'll gaze in awe inspired wonder upon the Victorian magnificence of the Royal Courts of justice.
You'll pass through a secret passage that brings you out into a tranquil and hidden courtyard where an ancient sundial casts a long shadow that stretches back over 300 years.
You'll move in and out of a sequence of fascinating alleyways that run behind Fleet Street and, as you do so, you will discover old buildings that still have the mark of ages long passed upon their time-scarred walls.
You'll stand by the grave of one of literatures greatest figures and attempt to decipher a clue from the inscription that is carved upon it.
You'll see the grand old house of a grand old man of letters and will search its walls for an enigmatic answer to a tantalisingly teasing clue.
You'll even see the picturesque garden where Margaret Thatcher regularly used to like to pick flowers, how's that for an endorsement?
A GREAT EVENT FOR ANY OCCASION

So whether you are looking for a tem building event that will get staff to work together on an enjoyable but slightly challenging outing; or a Law firm based in the area looking to introduce staff or a new graduate intake to the wonderful places to be found around Fleet Street and Temple.
This treasure Hunt will prove ideal. It makes the perfect way to help while away a halcyon summer's afternoon, or a bright and crisp winter's morning as staff explore and area that is so steeped in the past that it would come as no surprise if Charles Dickens himself were to suddenly step from the shadows and offer your team the solution to one of the clues!
HOW TO ORDER THIS TREASURE HUNT
The basic treasure hunt package consists of 4 treasure hunt packs, which is sufficient for 4 teams.
If you require more than 4 packs please click on the exact number of packs you require by using the drop down arrow on the right of the order box.
You will then be taken to our secure online payment page. You can either pay by credit or debit card, or, if you would prefer, with your Paypal account.
If you would prefer to order by phone, or you require urgent delivery, please call us on 020 8530-8443, during our normal office hours, which are Monday to Friday 10.30am to 4.30pm.