LET US CO-ORDINATE YOUR TEAM BUILDING EVENT FOR YOU
Sometimes it's nice if someone just takes over the whole responsibility of organising and running your entire event. Well, as it happens, we have the resources to do just that!
The Treasure Hunt People have a dedicated team of event managers who can co-ordinate your event from start to finish.
All our event managers are fully qualified Blue Badge Guides, licensed by the Institute of Tourist Guiding, the official body for guiding in London. They, therefore, know London extremely well and so will banter with the teams as they go round and will, from time to time, impart interesting snippets and facts about the locations the teams are passing or standing alongside.
WHAT THE EVENT MANAGER DOES
Your event manager will meet the teams, brief them on how the Treasure Hunt is structured and then keep a concerned eye on them as they head off to begin their quest.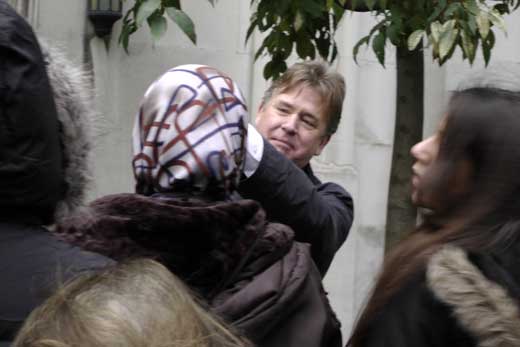 In addition, the teams will have an emergency phone number which connects to the event manager's mobile phone.
Should the teams find a clue difficult to solve, or should they find themselves inexplicably lost, one call and the event manager will get them back on track.
Having kept a watchful eye on the teams, and having been on hand throughout to bail teams out of all manner of tricky situations, your event manager will be waiting for them at the final venue to collect their packs and then mark their answers.
Once that has been done the event manager will then announce the scores and lead the applause for the winning team.
"THE COMPETETIVE JUICES WERE FLOWING"
We wanted to thank you for coordinating such a fantastic event!
The competitive juices were flowing even before the packs were distributed and as soon as we were off there was no doubt that everyone got into the spirit of the event.
What was amazing was seeing people discover the area that we spend so much of our time in every day - buildings that we blindly walk by all of a sudden became pivotal to our success as a team and people suddenly saw the City through very different eyes.
The Treasure Hunt is definitely something we'll be talking about for a long time to come.
Many thanks
Rachel Megitt
Royal Bank of Canada
IDEAL IF YOU WANT TO RELAX AND ENJOY THE EVENT
The managed option is ideal for organisers who want to participate in the event themselves and who want to be free to enjoy the Treasure Hunt without having to worry about the participants.
It also puts an event manager in charge who has experience of all the pitfalls and knows what might go wrong or what problems the teams might encounter.
Furthermore, the managed London treasure hunts can be tweaked to start and finish at a venue of your choosing, providing it is located in the area where the Treasure Hunt takes place.
YOU CAN EVEN ADD A POSE OR A SCAVENGER ROUND

In addition to the Cryptic Clues, Observation Questions and Photo Challenges, you can also add a Pose Round and a Scavenger Round to a Managed London Treasure hunt.
For the Pose Round we set the teams a series of poses that they must acquire their teams in as they make their way around the treasure hunt route.
These are light-hearted poses and they really do add a great deal of fun to the treasure hunt as the participants attempt to achieve such memorable poses as getting as many team members as is humanely possible: or trying to persuade a couple in love to pose for them; or imitating any one of the many statues they encounter as they make their way around the treasure hunt route.
The great thing about this additional round is that participants will have a lasting and fun souvenir of their team building activity.
The Scavenger Round consists of a series of unusual items the teams must obtain as they make their way around the treasure hunt route.
Again they are fun items and locating and acquiring them can be both challenging and entertaining, thus adding extra value to a great London team building event.
SO LET US TAKE OVER THE HASSLE FOR YOU

Arranging a managed treasure hunt could not be simpler.
Just have a look through the various treasure hunt routes we offer, decide which one is most convenient, or else appeals to you the most, then just give us a call to check that the date you require is available.
We'll then book your event and send you a full confirmation.
That's all there is to it.
You can then sit back, let us take care of arranging everything and enjoy your London Treasure Hunt on your designated day.