HOW OUR TREASURE HUNTS WORK AND WHAT'S INCLUDED
INTELLECTUAL STIMULATION AND GENTLE AEROBIC EXERCISE!
A treasure hunt offers a fun and fascinating experience that enables participants to discover some of London's most intriguing, picturesque and historic places.
Whether you are seeking a team building endeavour for your staff and clients; an entertaining get together for an away day; a fun way for staff to get to know a particular area after relocation or even an opportunity to coax conference delegates out of the meeting room and into the fresh air - a treasure hunt is ideal.
Offering a flexible way to foster camaraderie, a treasure hunt makes a great social ice-breaker and helps participants to explore and work together in a challenging and rewarding way whilst, at the same time, offering a unique combination of intellectual stimulation and aerobic exercise.
PERFECT FOR TEAM BUILDING AND BONDING

A Treasure Hunt makes a great team building exercise that is both rewarding and challenging.
Participants will need to pool their collective talents and work together in teams to solve a series of visual, cryptic clues, whilst also hunting down the answers to a number of questions concerning places and items they will pass as they make their way around the treasure hunt route.
The members of each team must demonstrate their skills at communication, motivation, delegation and creativity whilst showing their abilities at effectively managing their time and resources.
Team members will need to discuss the clues with their team mates, be able to listen to each other's opinions and work together to achieve the ultimate goal of defeating the other teams which, since only one team can be the winning team, means they will also have to show and ability to concede defeat with dignity and honour!
In short, a treasure hunt is the perfect London team building activity.
THEY ALL START AT UNDERGROUND STATIONS
Each one of our London treasure hunts begins outside a London Underground Station. This makes getting to the start point easy and convenient
You can start the treasure hunt at your office anywhere in London and then make the first challenge getting to the start point in as quickly and directly as possible.
If The purpose of the event is to familiarise staff members with their locality then we have a wide variety of quests that cover many districts of London.
Alternatively, we can tailor make a treasure hunt for you that covers an area and/or a theme of your choosing.
SLOW AND STEADY WINS THE RACE

Once the team has arrived at the designated start point they head off to begin the treasure hunt.
Our London treasure hunts are designed to be done at a gentle and relaxed pace and are accessible to all.
This is a massively important point to consider when you are planning your event.
You are always going to have the participants who are ultra competitive and who want to race off and complete the challenges in super fast time. This can result in less agile participants feeling left out.
But, because our quests are about ferreting out information, as opposed to being a race, teams will need to take their time, observe their surroundings and spot the solutions and answers that are located in some of the least likely places.
As a result, racing around the route in the fastest possible time is a futile endeavour. The winners are invariably the ones who takes the trouble to really study the streets they are walking through and that pay attention to the statues, plaques, information boards and buildings that they will be passing.
Thus everyone, from the fastest to the less agile, has an equal chance of emerging victorious and nobody feels left out.
TEAMS FIRST READ THE BRIEFING NOTES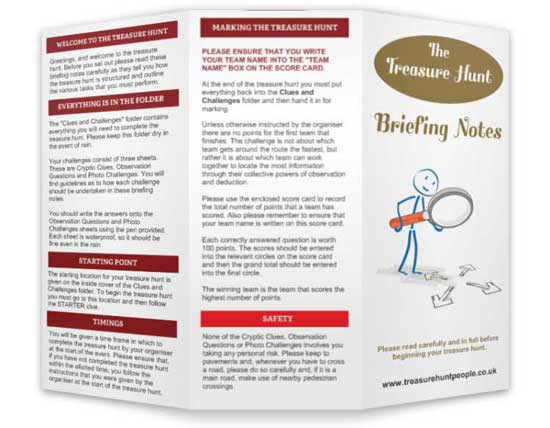 Each team will have a wallet inside which will be everything necessary to participate in the treasure hunt.
Each wallet contains a full set of briefing notes that tell them exactly how the treasure hunt is structured and which proffers useful advice on how best to solve the clues and answer the challenges.
Before they set out it is essential that all participants read this sheet to gain an understanding of how to complete the event and of the tasks they must perform as they make their way around.
THERE ARE THREE SETS OF CHALLENGES
PLUS AN OPTIONAL POSE AND SCAVENGER ROUND
The packs we provide contain three sheets, which combine to create four challenges that the teams must complete as they make their way around their chosen route.
You also have the option of adding a pose round and a scavenger round should you wish to make the treasure hunt that little bit more of a challenge.
One thing to keep in mind when considering an additional round is that you will have to go through all the poses and scavenger challenges at the end of the event which means that marking will take longer.
If you would like to include the pose and/or scavenger rounds then please email us once you have purchased your basic package and we will include them at no extra cost.
ALL SHEETS ARE WEATHER PROOF
Each team is provided with a plastic wallet that contains the treasure hunt sheets, and everything else needed to complete the treasure hunt.
Each of the sheets is printed on the same high grade waterproof paper that ordnance survey and army maps are printed on, so they won't fall apart or disintegrate should it rain in the course of the treasure hunt or should they be subjected to particularly harsh treatment!
CHALLENGE ONE - THE CRYPTIC CLUES
These are the clues that enable you to move around the route.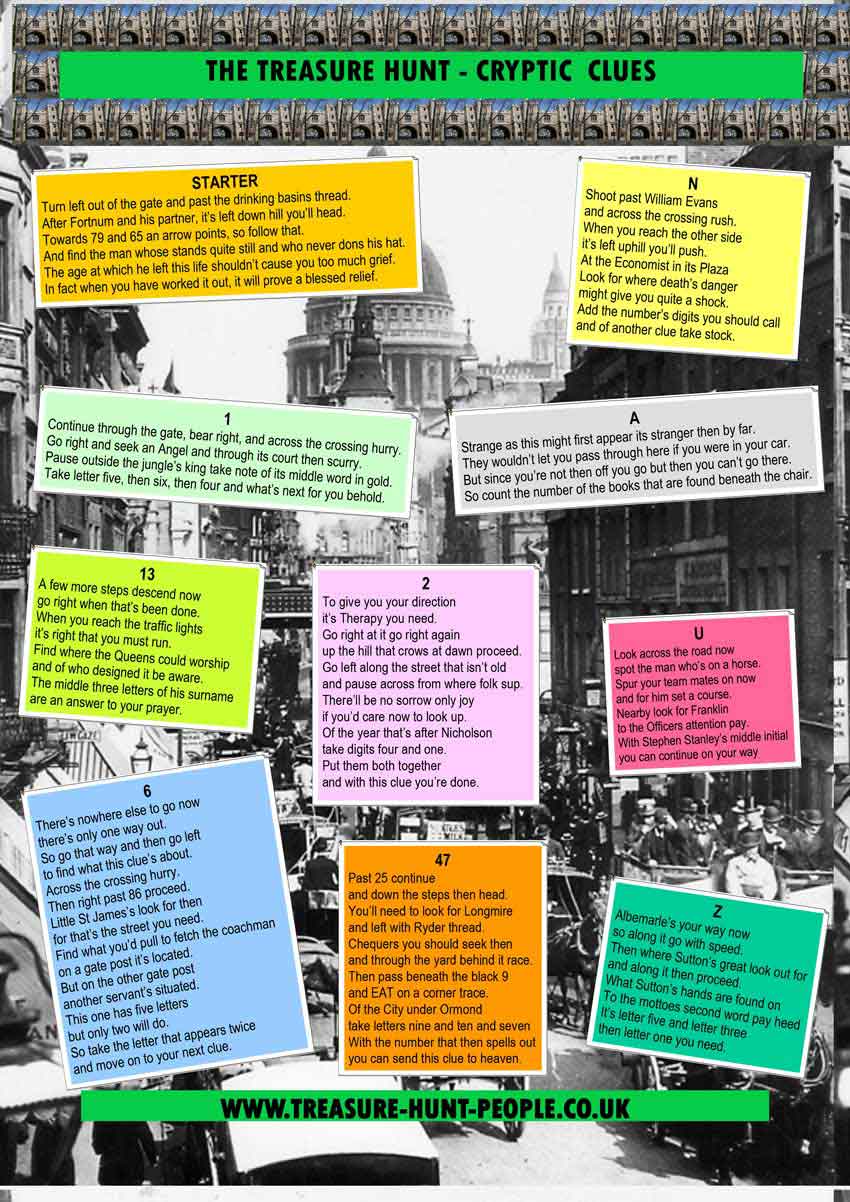 They are printed onto top grade waterproof paper, so they will be completely unaffected by anything that the British weather can throw at you!
Each clue is a visual clue so you won't need any knowledge of the area, nor of the history of the area.
You will simply need to read and observe and look for the local landmarks that the clue is directing you towards.
In so doing, each clue will lead you to a location where you will find a plaque, a statue or some other item from which you must select a letter or a number that will correspond to the next clue you must follow.
Once you have found this letter or number you then follow that clue and repeat the formula throughout the treasure hunt until you reach the end point.
The last clue is written in such a way as to make it quite clear to the teams that they have completed their treasure hunt challenge.
CHALLENGE TWO - THE OBSERVATION QUESTIONS
This challenge will consist of a sheet of 20 questions that you must answer as you make your way around the treasure hunt route.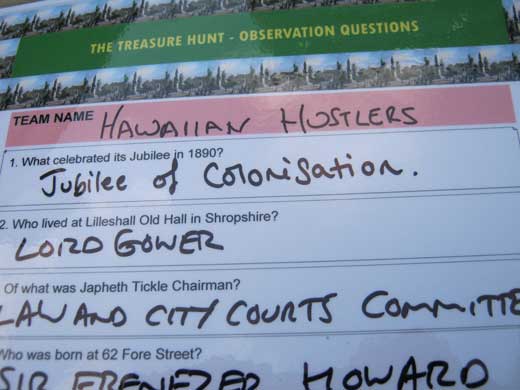 The answers might be on information boards, on statues, on blue plaques or even on tombstones in a local churchyard!
You will, however, need to seek them out as not all of them are immediately apparent, which makes locating them something of a challenge!
A challenge that you must rise to if you are to emerge victorious from the wilds of London!
The solutions to these questions are scattered all over the route, so the teams will not know when they are getting close to a particular answer.
As a result, each team member will need to keep a keen eye peeled in order to spot the solutions when they hove into view.
CHALLENGE THREE - THE PHOTO ROUND
Each team will be provided with a sheet of 10 photo questions consisting of items and things that they will pass in the course of their treasure hunt.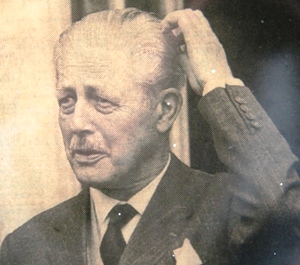 However, they have either been photographed from odd (in some cases decidedly odd) angles or else they have been altered in some way to make identifying them a little bit more difficult.
Once you have located the subject of the photograph itself you will then have to answer a question about it.
Harold Macmillan (pictured right), for example, pops up on our Mayfair Treasure hunt, but what is causing him to scratch his head in such evident bemusement?
CHALLENGE FOUR - AN OPTIONAL POSE ROUND
This round is an optional round that you can add if you wish.
It is intended to add an extra element of fun and teamwork to your London treasure hunt.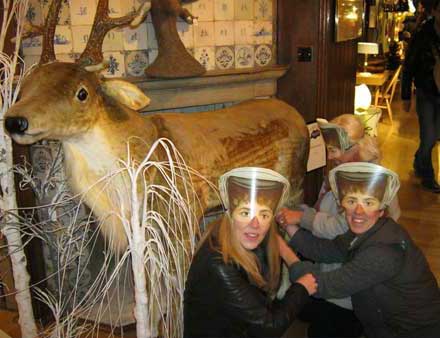 The teams are given a set of 12 poses that they must get photos of themselves staging as they make their way around the route.
Some are obvious and shouldn't be too difficult to achieve.
Can it be that hard to cram your entire team into a phone box and persuade a passerby to take the photograph?
Other poses, however, will stretch the teams powers of creativity and ingenuity to the limits.
I mean, where can you find a Cordwainer when you need one?
And, what was it that Humpty Dumpty did after he sat on the wall?
CHALLENGE FIVE - AN OPTIONAL SCAVENGER ROUND
Another popular round to add is the Scavenger challenge in the course of which teams must obtain a series of items as they make their way around.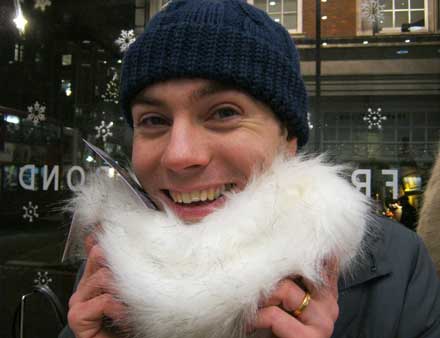 These are everyday items, so there is nothing too complicated.
However, it's surprising how brain freeze can set in at the moment when you think you know exactly where to acquire a specific item from.
I mean, you've suddenly realised what it is that you want to acquire that is named after the person who invented it and made it famous, when, horror of horrors, you can't think of where to acquire it.
Likewise, just when it pops into your mind exactly what it is that an eisoptrophobic would avoid at Christmas, and you can't find one for love nor money.
Incidentally, it is worth mentioning that all the items required for the scavenger hunt are acquirable without the teams having to spend any money to obtain them.
WE PROVIDE ALL THE ANSWERS AND DIRECTIONS
When you, as the organiser, receive your treasure hunt packs you will also receive a sealed envelope which contains the answers to the observation questions and photo challenges.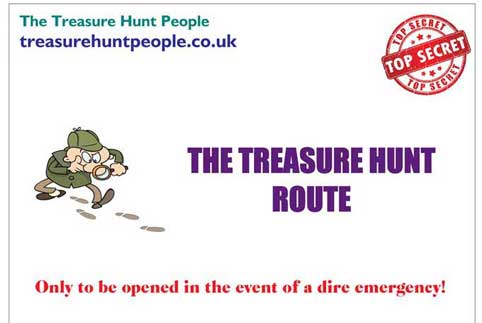 Inside this will be a smaller sealed envelope containing the directions for the route, plus the location of and solution to each of the cryptic clues.
In all honesty you shouldn't actually need to refer to this latter envelope as the clues really are very visual and just require reading properly (as opposed to just scanning them quickly) and then looking around to see what you are being directed to do.
However, it is always good to have the security of a fall back should the teams encounter any difficulties.
HOW DO WE ALLOCATE POINTS?
All our treasure hunts end outside pubs, restaurants or wine bars.
However, the final clue is on the outside of the venue so that, if you wish to go somewhere else, you can do so without missing any of the answers.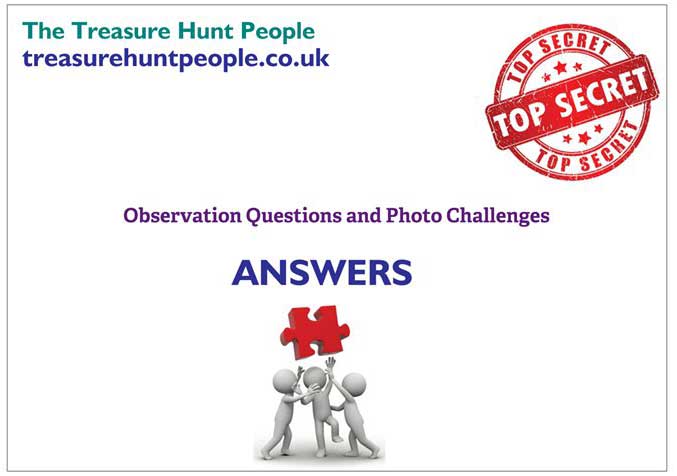 Here you can sit down and relax and prepare for the marking.
Once all the teams have assembled you can open the answers envelope and read out the answers to the assembled throng.
We then suggest that you get the teams to switch packs and each team marks their opponents Observation Questions and Photo Challenges awarding 100 points for each correct answer.
The winning team will be the team that scores the highest number of points.
In the event of a tie, we suggest having a tie-breaker question ready and we are happy to suggest possible questions.
WE'RE ALWAYS JUST A PHONE CALL AWAY

If you have made use of one of our Managed Treasure Hunts, each team will have the mobile phone number for the event manager and will able to call for advice at any stage.
For our popular Self Managed Treasure Hunts you will be managing the event yourself.
However, this doesn't mean that we simply abandon you once the packs have been sent out.
Not only do we provide you with all the directions and answers, but if you are unsure of anything, even during the event itself, please just give us a call and we'll be there for you.
We're more than happy to talk you through the route step by step and allay any worries, problems or concerns that you might have in a friendly and efficient manner.
No matter which service you ask us to provide, whether it's a managed event or a self managed package, we'll be there for you every step of the way.
We pride ourselves on providing first class customer service.
So, please do feel free to call us and let us explain how our treasure hunts work and help you select the quest that suits your requirements.
WHATEVER THE OCCASION A TREASURE HUNT IS IDEAL
No matter what the occasion a treasure hunt makes the perfect way to enable participants to enjoy a few hours of discovery as they make their way round London uncovering and experiencing the many curiosities that the city has to offer.
Colleagues can enjoy each others company as they work collectively towards a common goal, whereas conference delegates or new team members are soon chatting amiably as they enjoy their surroundings and take pride in working together to solve the clues and spot the answers to the observation questions. Participants might set out as strangers but they will end the event as friends.
So, when considering your next team building event or social activity in London, let the treasure hunt people provide you with a tried and trusted formula that is guaranteed to delight and fascinate participants.