BAH HUMBUG!
Please note, we are sadly not offerring the Christmas Lights Treasure Hunt in 2020.
Jingle bells, jingle bells, jingle all the way, oh what fun it is to be on the winning team today.
Well, that's the hope at least.
After all, our Historic City Christmas Treasure hunt is a fun packed adventure that sends teams on a magical sleigh ride (well actually they'll be on foot!) through one the City of London's most atmospheric quarters.
In fact, the area you will explore on this seasonal challenge could come straight out of the pages of a Charles Dickens Christmas book.
SCROOGE WOZ 'ERE
In fact, it does come straight out of the pages of such a book, as it was in the alleyways and courts that this City quest takes you into that Dickens set parts of A Christmas Carol and thus it makes the perfect location for a Christmas Treasure Hunt that is both fun and memorable.
CHRISTMAS PASSED, PRESENTS AND WHAT'S YET TO COME?
With that in mind in the course of your Historic City Christmas Treasure Hunt you will be visited by three challenges.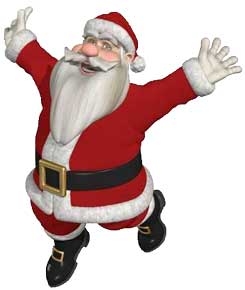 These are:-
The Challenge of Christmas Passed - in the course of which you must locate the solutions to a series of observation questions pertaining to the area through which you will pass in the course of your Christmas Treasure Hunt.
The Challenge of Christmas Presents - that will see your team scavenging hither and thither to acquire a number of bizarre items that would make ideal Christmas presents!
The Challenge of Christmas What's Yet To Come - for which you must get your team to perform a sequence of challenging (though hilarious) poses, each one a little bit stranger than the last, and each of which will keep team members asking themselves "what's yet to come?"
OH WHETHER OUTSIDE IS FRIGHTFUL
On our Historic City Christmas Treasure Hunt you'll be venturing through alleyways and into hidden passageways where the atmosphere positively crackles with festive spirit and where the weather will not make one iota of difference to your enjoyment.
TIME STANDS STILL ON A FUN ACTIVITY
The emphasis of the quest is on entertainment and although there is, obviously, a competitive element to the Treasure Hunt - the rewards will come not from being the first team past the finishing post, but from being the team that derives the most enjoyment from the tasks laid out before you.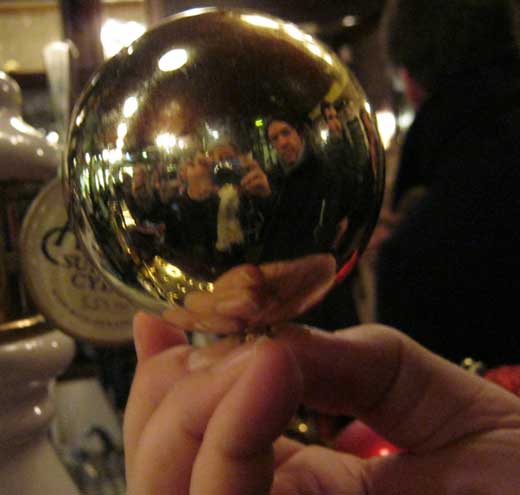 Imagine for a moment a pedestrian thoroughfare that still follows its medieval street pattern.
Picture it lined with shops, the windows of which are a blaze of festive colour.
Now think on how many Christmas's these old shops have seen and how many long forgotten citizens have trudged past them en route to many of the places that you will be visiting in the course of your treasure hunt.
This is the great thing about the Historic City Christmas quest. It takes you on a magical journey through the ages in the course of which you will encounter so many remnants of bygone London that you might, at times, be almost convinced that you have somehow been spirited back to yuletides past.
THERE ARE A FEW PUBS YOU MIGHT STOP OFF AT
And, because it's Christmas, the season of goodwill to all treasure hunt participants, you will find a liberal smattering of pubs along the route that could, if you wish, provide the teams with a brief respite from the Bleak Mid Winter.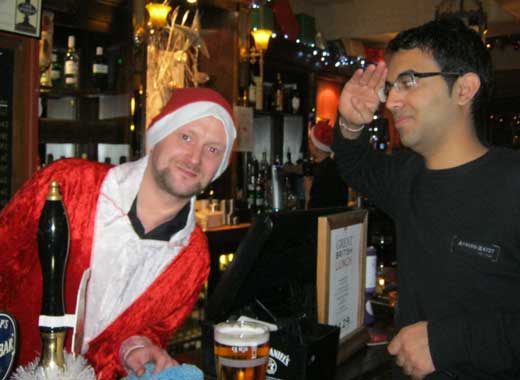 They are lovely old pubs where you'll most certainly not receive a frosty reception, although you might well make moan when you have to leave!
Just a word of advice though. If the teams do opt to stop at a few pubs it will increase the duration of the treasure hunt by however long they spend inside the pubs. You might, therefore, want to empahsise this point at the outset and tell each team to plan accordingly.
No clues or challenges are located inside any pubs, so if you just want to get round without stopping off for a drink the teams won't miss anything.
IT'LL END IN TEARS - OF LAUGHTER!
The whole route of this Christmas Treasure Hunt is made up of places and tasks such as these. Secret hideaways where time stands still in which you will have to perform tasks so hilariously challenging that the tears will soon come rolling down your cheeks.
WHAT'S SANTA GOING TO BRING YOU?
As the teams weave in an out of the alleyways they must collect numerous Christmas baubles with which they will have to entertain the other teams at the end of the Treasure Hunt.
DON'T FORGET YOUR CAMERA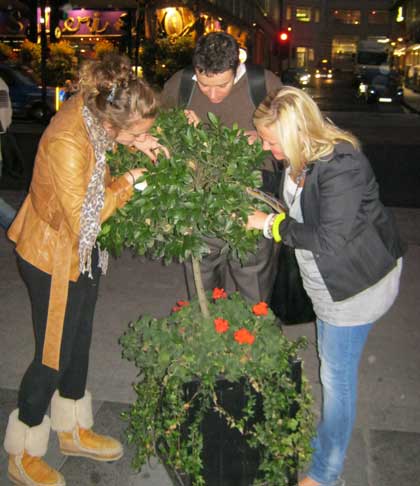 In addition they must photograph themselves - or get photographs taken of themselves - in all manner of fun poses.
Standing next to a person in uniform might not prove too much of a challenge, nor for that matter much frivolity.
But forming your own National Elf service?
Or delivering a letter to Santa in the North Pole?
Or giving your own impromptu carol service?
Or capturing for posterity the actions performed on one of the Twelve Days of Christmas?
Well, these all have great potential for real amusement.
YOU'LL HAVE MORE TO SPEND ON FOOD AND DRINK
The Historic City Christmas Treasure Hunt makes a great way to enjoy a few hours exploring the streets of London prior to a Christmas lunch, dinner or evening party. Plus it provides excellent value for money, leaving you with more of your budget to spend on other aspects of your Christmas festivities - drinks and food are two aspects that spring immediately to mind.
DID HE REALLY SAY THAT?
So, as Tiny Tim said when he read the first clue on our Christmas Treasure Hunt, "God help us.. Every One of us!"
Christmas is such a special time and an historic City treasure hunt makes the ideal way to get into the mood for any festivities you might be planning.
Of course, it isn't all about goodwill, there is the added thrill of competing against one another, trying to outsmart the opposition and slipping down the chimney of the final venue exceedingly merry (as in happy!) and, if you are on the winning team, extremely bright.
HOW TO ORDER THIS TREASURE HUNT
The basic treasure hunt package consists of 4 treasure hunt packs, which is sufficient for 4 teams.
If you require more than 4 packs please click on the exact number of packs you require by using the drop down arrow on the right of the order box.
You will then be taken to our secure online payment page. You can either pay by credit or debit card, or, if you would prefer, with your Paypal account.
If you would prefer to order by phone, or you require urgent delivery, please call us on 020 8530-8443, during our normal office hours, which are Monday to Friday 10.30am to 4.30pm.