DISCOVER WAPPING ON A WHOPPER OF A CHALLENGE
Shiver me timbers me hearties we're off on a journey through Docklands, and what a fiendishly cunning journey it's going to be!
Your Docklands Treasure Hunt begins right in the heart of old Docklands and then picks its way along the riverside dipping in and out of some wonderful old alleyways and affording some glorious views of the River Thames.
LIQUID HISTORY AND QUIRKY ANECDOTES
The Thames is, of course, liquid history, and its banks are lined with some wonderful old buildings and pubs which offer a rich seam of fascinating facts and quirky anecdotes that we were able to mine as we put together this truly atmospheric London Treasure Hunt.
You will unearth some true surprises, such as a riverside path that delivers you, blinking in disbelief at some true survivors of old Docklands.
COBWEBBED BY TIME

These are places that are cobwebbed by time and upon which former residents, some famous, some infamous and some forgotten, have left their mark.
CAN YOU FIND THEIR MARK?
It might be something they did which is remembered on a plaque.
They might have been sorely missed by their contemporaries who, weighed down by grief at their loss, chose to remember them with a statue.
It might simply be their name or occupation carved onto a stone that adorns their final resting place.
It could be some long ago charity that their image was intended to represent, such as the girl to the right who still stands over the school where poor children were educated 200 and more years ago.
Or, it could simply be an innocent pastime that they once enjoyed and, in so doing, managed to leave vestiges of it behind.
One thing, however, is certain.
Whatever their mark was, we uncovered it, noted it, and found a way of featuring it on our Docklands Treasure Hunt.
PIRATES AND PUBS

In the course of your Docklands quest you'll discover London's oldest riverside pub (although it's not included in the treasure hunt a quick half might be in order to sample its hospitality!).
You'll see the place where Captain Kidd was executed and the alleyway where an infamous Judge received a savage beating in 1688.
HAVE I GOT CLUES FOR YOU
You'll be constantly on the look out for the solutions to our cryptic clues and the answers to our cunningly concealed observation questions and photo challenges.
You'll have to examine every statue and sculpture you pass; study every plaque, wherever it might be, to see if it holds the answer to one of your tasks.
SOME HIGHLIGHTS OF THE DOCKLANDS TREASURE HUNT
You'll find various shipping artifacts that lay buried in the mud of the Thames until modern building work brought them to light once more, just in time for them to feature on our Docklands Treasure Hunt!
You'll see the headquarters of the world's oldest police force.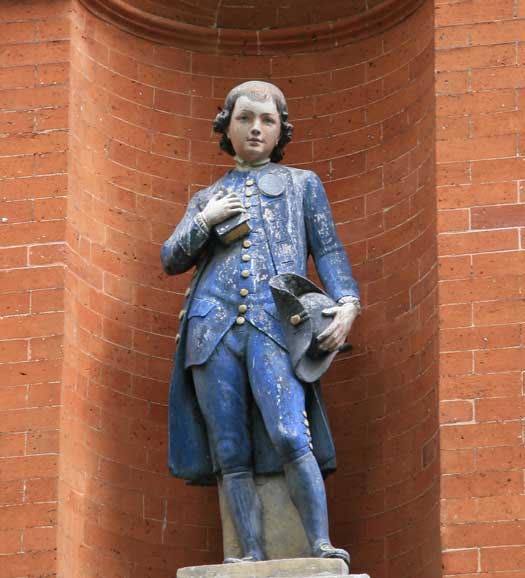 You'll seek out various bits of street furniture and curious friezes, such as the man to the right with the jug who's been relaxing on a Docklands wall for over a hundred years without being in the least bit perturbed by the passage of time.
You'll disappear into cobblestone riverside side passages to hunt for clues on ancient walls, the crumbling brickwork of which has witnessed dastardly deeds and historic happenings.
You'll visit a tranquil garden that remembers the men, women and children that lived through the blitz when this area bore the major brunt of the night time bombing raids on London.
You'll discover one of the most picturesque riverside docks imaginable.
And, after a few hours of really getting under the skin of Docklands, really getting to know its alleyways, old docks, and riverside passageways, you'll be able to refresh yourself at a very atmospheric inn that really will round off your journey in memorable and hospitable fashion.
A GREAT TEAM BUILDING ACTIVITY IN DOCKLANDS

So whatever the reason for your get together, be it a team building exercise, an office social, a birthday, hen or stag party, the Docklands Treasure Hunt will allow you to really get to know this special and interesting part of London.
Of course, there has to be a competitive element to a treasure hunt and, with Docklands, you're in a perfect area in which to compete.
Hidden riverside paths, that you would never guess are there, make the perfect locations from which to sally forth, ducking in and out of them searching for answers whilst, at the same time, ensuring that the other teams don't get the upper hand and snatch the victory that you thought was yours for the taking.
HOW TO ORDER THIS TREASURE HUNT
The basic treasure hunt package consists of 4 treasure hunt packs, which is sufficient for 4 teams.
If you require more than 4 packs please click on the exact number of packs you require by using the drop down arrow on the right of the order box.
You will then be taken to our secure online payment page. You can either pay by credit or debit card, or, if you would prefer, with your Paypal account.
If you would prefer to order by phone, or you require urgent delivery, please call us on 020 8530-8443, during our normal office hours, which are Monday to Friday 10.30am to 4.30pm.