MASONS, MIRTH AND MONKS
Clerkenwell is a village that has to be seen to be believed.
It is a place where the past has never really died.
Scratch its surface, and you could easily be wandering through its twisting warren of atmospheric old alleyways in the company of either Shakespeare or Dickens.
A LITTLE BIT OF ARTFUL DODGING
It is a quirky little village that sits on a hill overlooking the valley of the River Fleet. But is also possesses an eclectic mix of curios street furnishings that could almost have been created specifically for inclusion in a treasure hunt!
It was where Dickens set much of the narrative of Oliver Twist, and the clues that we have devised for you are guaranteed to artfully dodge their way into places that are true time capsules.
There is the old Clerks Well, for example, the foundation that gave its name to the village.
We have managed to include it as a mind-jarring clue that might keep you guessing for a long, long time.
Then there is London's only surviving medieval gate that dates back to the latter 14th century and which spans a quiet back street.
The former home of Janet Street Porter is also included on this journey, as is a creepy backwater thoroughfare where the flagstones literally echo with history.
And, to be brutally honest, there aren't that many treasure hunts (oh alright then this is the only one) in which Elvis Presley, Henry V111 and King Kong appear side by side!
HIGHLIGHTS OF THE CLERKENWELL TREASURE HUNT
London's oldest Parish Church (c.1123) inside which scenes for Four Weddings and a Funeral. Robin Hood Prince of Thieves, The Other Boleyn Girl, Shakespeare in Love and Guy Ritchie's Sherlock Holmes were filmed.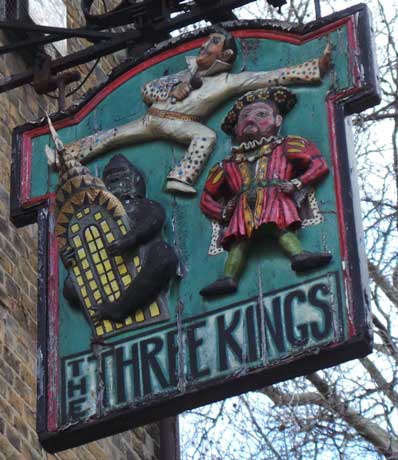 An ancient market that has been bringing chaos to this part of London for nigh on eight hundred years. It also possesses some fascinating information boards which give an insight into some of the, to say the least, unusual items that were sold here in days of yore!
London's only surviving Tudor town manor house, a picturesque relic that has changed little, if at all, since the 16th century.
The historic village green that isn't in the least bit green!
Several buildings that survived the Great Fire that destroyed so much of London in September 1666.
A curiously named thoroughfare that remembers the halcyon days when this was, very much, the countryside far outside the stinking, smog filled streets at the centre of the City of London.
Mix in a whole range of informative information boards and commemorative plaques and the stage is, well and truly, set for a fascinating quest that will see your teams stomping their way through a fascinatingly historic part of London as they attempt to find the clues and solve the conundrums that are hidden away in some truly intriguing places.
These clues might be buried beneath layers of bramble, displayed high up on the walls, or tucked away in furtive corners of forgotten buildings.
Then again, the solutions to the clues might be so obvious that you may well miss them!
FUN AND FASCINATION IN EQUAL MEASURE

So, for a treasure hunt challenge that will introduce you to a part of London that is steeped in history, but which, at the same time, is as much a part of the modern technological age as it is possible to be, unpack your thinking caps, fire up those little grey cells, and launch yourselves into a decidedly different part of London in which the flavours of the past have been mixed and mingled with the vibrancy of the present to provide you with a truly fascinating treasure hunt.
HOW TO ORDER THIS TREASURE HUNT
The basic treasure hunt package consists of 4 treasure hunt packs, which is sufficient for 4 teams.
If you require more than 4 packs please click on the exact number of packs you require by using the drop down arrow on the right of the order box.
You will then be taken to our secure online payment page. You can either pay by credit or debit card, or, if you would prefer, with your Paypal account.
If you would prefer to order by phone, or you require urgent delivery, please call us on 020 8530-8443, during our normal office hours, which are Monday to Friday 10.30am to 4.30pm.