RIVERSIDE WALKWAYS AND SYLVAN DELIGHTS
Imagine a sylvan landscape where twittering birds sing in the branches of centuries old trees that lean out across a picturesque lake.
Picture a riverside mall lined with stately homes that belong to every age.
Think of an old churchyard where two famous artists and two daughters of Oliver Cromwell lie buried.
Well, these are just some of the attractions awaiting those who choose to participate in one of our most picturesque treasure hunts that wends its way through the alleyways, woodlands and riverside walkways of Chiswick.
VARIETY IS THE SPICE OF LIFE!
A varied mix of old and new London awaits you.
You'll cross over the site of a long ago battle; duck down an old riverside path where the echoes of a long ago tragedy are still said to reverberate on the night breezes; see the houses where some of the 20th century's greatest actors once lived; and you'll even walk along a picturesque reach of the River Thames where the body of one of the major suspects for the mantle of Jack the Ripper was found in December 1888.
HAVE I GOT NEWS FOR YOU

Ian Hislop and Lord Burlington have somehow found their way onto our Chiswick challenge, although neither of them are aware of the fact!
Streets that begin with 20th century office blocks, but then end with what could easily be rural dwellings, abound.
Soaring churches and glorious greenery lie concealed around the route.
Sloping paths that lead down to one of the most picturesque stretches of the River Thames are commonplace.
One section will take you through thick woodland, so sensible shoes are advised.
There's even the surprise of walking along a narrow alleyway and suddenly emerging into a sprawling graveyard where a few famous figures, not to mention quite a few un-famous, sleep an eternal sleep.
But, one thing's for certain, there is so much to hold your attention in the streets and lanes of Chiswick that you'll be determined to return at a future date to explore all those wonderful places you sped through as you pursued your goal of treasure hunt victory.
YOU'LL REALLY WANT TO TAKE YOUR TIME
The Chiswick Treasure Hunt covers a greater distance than many of our other treasure hunts and, as a consequence, it can take slightly longer.
But it covers such a fascinating area that you really won't want to hurry but will want to take your time as you amble along picturesque riverside lanes, stroll through lakeside avenues of soaring trees and crouch down to read the time worn tombstones in the pretty churchyard that you will encounter.
HAVE YOU ANY IDEA...

Which famous painter was buried with his mother-in-law?
Where the Hammersmith Ghost appeared and, literally, scared a local resident to death in 1804?
What happened at 8am on the 13th November 1642?
Who intended to assassinate William 111 as he passed through Chiswick in 1698?
Why you might need Wellingtons to walk along one of the streets featured on the Treasure Hunt?
When the stone face to the right was placed at its current location and why?
If the answer to each, or any, of these questions leaves you scratching your head in bemused puzzlement, worry not.
For, by the time you pitch up at the last venue, you will have uncovered the answers to all of these questions and many more besides.
At least, you will have found the answers if you have taken the time to study the route you have followed and have taken the trouble to observe, as opposed to simply notice, the things you will have passed.
HISTORY SURROUNDS YOU
The great thing about Chiswick is that it offers the intrepid treasure hunter such a huge variety of things, and places, to delve into.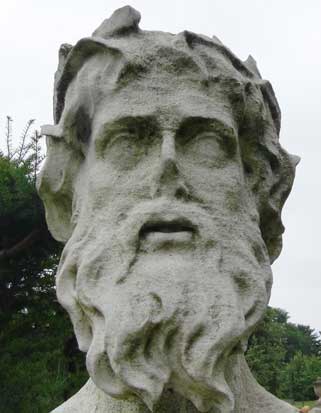 One section, for example, involves you crossing one of the busiest roads in London.
Indeed, so busy is it that you your first instinct will be to wonder what could possibly be of interest on its other side.
But then you've crossed over, turned down a sleepy little side street and, lo and behold, the traffic has disappeared and you are suddenly centuries removed from the hustle, bustle and rush of modern London.
The entire route is crammed full of surprises and contrasts like this and you'll most certainly fall beneath the spell of the streets through which you and your team mates meander whilst, at the same time, finding yourself amazed by the wealth of history that surrounds you.
In fact, you'll see so many great places and discovery so many curiosities that you'll, most certainly, want to return here to check them out at a future date.
And, of course, because the treasure hunt will have made you take note of your surroundings, you'll Know exactly where to find the fascinating locations with which the streets of Chiswick abound, so much so that you'll be able to guide your family and friends on your own tour of the secrets of this delightful London village.
WHY NOT BRING A PICNIC?

And, since part of it takes place in the lovely grounds of Chiswick House, you might wish to bring along a picnic and take a well earned break enjoying some of the capitals loveliest parkland.
And, let's be perfectly honest about this, what better form of team building can there be than exploring streets with houses that you would just die to get into; exploring old graveyards where those who lived in some of those houses did, in fact, die to get into; uncovering a truly picturesque stretch of the River Thames; and then ending the whole harmonious affair with a picnic, or a mouthwatering pub buffet, during which the treasure hunt participants can taunt each other over the tortillas, or catcall each other over the canapés over how well they did, or didn't do?
HOW TO ORDER THIS TREASURE HUNT
The basic treasure hunt package consists of 4 treasure hunt packs, which is sufficient for 4 teams.
If you require more than 4 packs please click on the exact number of packs you require by using the drop down arrow on the right of the order box.
You will then be taken to our secure online payment page. You can either pay by credit or debit card, or, if you would prefer, with your Paypal account.
If you would prefer to order by phone, or you require urgent delivery, please call us on 020 8530-8443, during our normal office hours, which are Monday to Friday 10.30am to 4.30pm.