NEVER MIND THE ROLLING STONES HERE'S THE SEX PISTOLS!
Are you ready for this one?
A fascinating stroll through the picturesque streets of Chelsea hunting for clues that will take you from the days when this was a country village, far removed from London; through the swinging sixties, when the likes of Mick Jagger, Keith Richards and Mary Quant helped make Chelsea a byword for everything that was "happening" and fashionable; and on through the 1970's, when Malcolm McLaren and Vivienne Westwood came face to face with an angry young man with rotten teeth, and a rottener attitude, by the name of John Lydon and the Punk Rock movement was born.
But, don't worry, the only f words you'll encounter as you traipse around the streets of Chelsea on this entertaining treasure hunt are fun and fascination.
THE KING'S OWN PRIVATE ROAD

Once upon an age you would only have been able to pass along the first section of the Chelsea Treasure Hunt route if you were in possession of a special token issued by the Crown which entitled you to do so.
Such obstacles, however, are no hindrance to the Treasure Hunt People and we used our influence in high places to get the road opened for you so that you could pass along it in search of your first clue. Fair enough, it was nothing to do with us as the King's Road has been open to the public since 1830, but you can't blame us for trying to take the credit!
King's Road contains a wonderfully eclectic array of ornaments and furnishings, some bizarre, some truly intriguing, that lend themselves perfectly to inclusion in a Chelsea treasure hunt.
Indeed, one of our first clues (it might even be the first clue) involves you seeking out an ancient map that depicts the very ground over which you will be walking as it was several centuries ago.
On this fascinating relic you will need to seek a very gruesome location that will enable you to move on to your next clue and thus set out into a wonderful warren of bucolic backstreets, serene squares and enchanting alleyways in London's most bohemian of bohemian villages.
JUST A FEW OF THE NAMES YOU WILL ENCOUNTER

Oscar Wilde, Sir Thomas More, Rossetti and Bram Stoker are just some of the famous past residents who will pop up on this delightful treasure hunt.
You'll pass the house where Mick Jagger lived in the 1960's, not to mention the one he recently moved in to.
You'll encounter the houses of some famous, and not so famous, authors, not to mention the abodes of actors, actresses and film directors, including the man who ooom pah pah oom pah pah's us with the footstomping screen version of Oliver!
You'll learn about the man whose eclectic collection of antiquarian artifacts provided the bedrock on which the British Museum was founded.
And you'll even see the magnificent church in which Charles Dickens was married, the spire of which brought an abrupt and tragic end to the career of a 19th century aeronaut.
SOME OF THE CHELSEA TREASURE HUNT HIGHLIGHTS
You'll view the grandeur of Sir Christopher Wren's Royal Hospital, home to the legendary Chelsea Pensioners.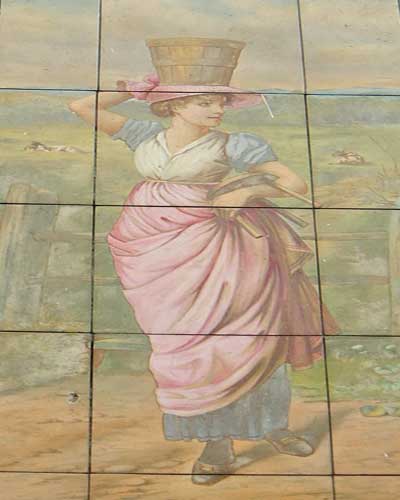 You'll glimpse the almost secret orchard that survives from King Henry V111's Manor House.
You'll peek through an ancient gate to catch a tantalising glimpse of the splendidly sylvan Physic Garden, one of London's true treasures.
You'll find grand squares and tucked away mews, and you really will feel that you have been spirited away from the hustle and bustle of modern London.
You'll catch glimpses of some fascinating reminders of the days when this little village, far to the west of London, was once a rural retreat to which citizens came to escape the smoke-clogged air of the the City.
Imagine crunching across the gravel of a road that was once intended to be a grand Royal route, the progress of which was halted when its sponsor, King Charles 11 died.
Picture yourself passing the cottage where Laurence Olivier and Vivien Leigh once lived (Ralph Richardson nearly burnt it down one bonfire night, but that's another story!)
Think what it might be like to stroll along millionaires walk and view grand houses where the other half live (for some of the year at least).
IDEAL FOR TEAM BUILDING, SOCIALISING OR CELEBRATING

So, whether you are looking for a team building activity, an evening event that will get yourself, your friends and work colleagues out and about, or even an enjoyable Saturday or Sunday morning or afternoon social gathering, hen party or birthday party, our Chelsea Treasure Hunt will lay before you a sequence of streets and squares lined with old houses that will almost have you convinced that you've been transported back in time.
It's historic, it's trendy, and once you've discovered the wonderful nooks and crannies that we put before you, you'll want to return time and again to an area that is fascinatingly different.
How groovy is that?
HOW TO ORDER THIS TREASURE HUNT
The basic treasure hunt package consists of 4 treasure hunt packs, which is sufficient for 4 teams.
If you require more than 4 packs please click on the exact number of packs you require by using the drop down arrow on the right of the order box.
You will then be taken to our secure online payment page. You can either pay by credit or debit card, or, if you would prefer, with your Paypal account.
If you would prefer to order by phone, or you require urgent delivery, please call us on 020 8530-8443, during our normal office hours, which are Monday to Friday 10.30am to 4.30pm.