THE RIVERSIDE VILLAGE WHERE TIME BEGINS
Maritime Greenwich is London with a difference. It has the flavour of the sea about it, yet it is little more than a stone's throw from Central London.
It boasts intriguing curio shops, world class museums, the Royal Observatory, some superb pubs, and it is also the place where time begins.
A GREAT PLACE TO TAKE YOUR TIME
So what better place to pit your wits against our cunningly set out cryptic clues as you race against time, with time, and over time to hunt down the answers to some fascinating questions?
NO LOCAL KNOWLEDGE IS REQUIRED
We have not strayed at all from our ethos of providing you with quality, well paced out treasure hunts.
So, once again, you will need no prior knowledge of the streets of Greenwich, nor of the history of Greenwich to be able to complete the route.

What you will need is a keen eye, an enquiring mind, coupled with an ability to split infinities, and boldly go where no team has gone before, boldly or otherwise.
Indeed, the difference between joyous victory or humiliating defeat very much lies in your ability to observe.
Your curiosity might lead you into some truly curious corners of Greenwich, but it's what you do when you get there that matters.
Do you just take a quick look and then move on?
Or, do you take your time and survey your surroundings with an eye to the many secrets that each location visited might well be privy to?
Take the couple with the cat in the window to the right, for example.
They are there in plain sight.
And yet, if you don't notice them, you won't find them, and if you don't find them, then you won't be able to answer the question about them, and if you don't answer the question about them...well the consequences don't bear thinking about!
That one little unobserved dummy window that you raced past without noticing, could so easily be the difference between first place and second place!
HIGHLIGHTS OF THE GREENWICH TREASURE HUNT
You will explore the myriad of backstreets, hidden places and curious thoroughfares that Greenwich has to offer and discover some remarkable things about each one of them.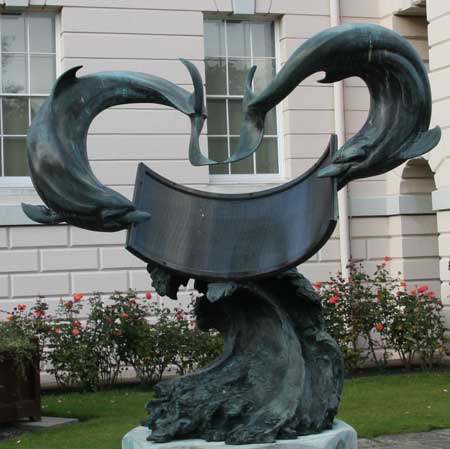 You will delve into secret churchyards, trudge up the slippery slopes of several picturesque hills and discover places that you would never have dreamed could still exist.
You will seek the coded inscription on a weatherworn tombstone and then use your powers of deduction to figure out what it means.
You will venture into Greenwich's lively market to hunt down a seemingly impossible clue.
You will enter the beautiful expanse of Greenwich Park to trudge up and down its sylvan slopes in search of little nuggets of gossip and fact about King Henry V111 and Queen Elizabeth 1st.
You will hunt for clues on maritime artifacts, seek the solutions to observational conundrums on stately statues, and derive a great deal of merriment from discovering how a long ago resident fixed his piles!
You will even find out what that strange creature is in the photo to the right!
CUNNING CONUNDRUMS AND AN EYE FOR THE NOSE

Add to the above the fact that you will be tasked with finding the answers to some intriguing conundrums and that you will have to identify several famous Greenwich figures with only a brief glimpse of their noses, ears and other body parts to go on, and the stage is set for a fun-filled challenge that really will get you digging deep into Greenwich's vibrant past.
STEP BACK IN TIME AND OVER TIME
But by dedicating yourself to sniffing out every hidden courtyard, every overgrown tombstone you should find yourself sailing through the streets of this wonderful riverside village, and by working out what each clue is directing you to do you will find yourself stepping back in time, or at least stepping back over time!
YOU CAN EVEN GET THERE BY BOAT
Because our Greenwich Treasure Hunt starts close to Greenwich Pier you can even take a boat from Central London and enjoy a pleasant cruise down the River Thames as you prepare yourself for the challenge that lies ahead.
Then, suitably prepared, you can leap ashore and begin your quest through the wonderful streets of Maritime Greenwich.
PERFECT FOR TEAM BUILDING AND SOCIALISING

Whatever the occasion, whether you're just looking for an enjoyable activity to while away a few hours, or looking for something to keep delegates who are attending a meeting at one of Greenwich's many conference venues, or looking to encourage a team to work more closely together, the Greenwich Treasure Hunt is the perfect event from which they will derive a great deal of enjoyment whilst, at the same time, learning an awful lot about one of London's most fascinating neighbourhoods.
As with all our treasure hunts, the quest around Greenwich makes for the perfect team building exercise. One moment you'll be swanning along the riverside, full of the joys of spring, or whatever season you're doing the treasure hunt in, the next you'll have turned down a secret alleyway to find yourselves working together to try and spot the elusive grail of a clue that might not be that apparent at the first glance.
But it'll be there and, by working together as a team you'll find it and, having done so, it will then be imperative that you stop the other teams finding it!
HOW TO ORDER THIS TREASURE HUNT
The basic treasure hunt package consists of 4 treasure hunt packs, which is sufficient for 4 teams.
If you require more than 4 packs please click on the exact number of packs you require by using the drop down arrow on the right of the order box.
You will then be taken to our secure online payment page. You can either pay by credit or debit card, or, if you would prefer, with your Paypal account.
If you would prefer to order by phone, or you require urgent delivery, please call us on 020 8530-8443, during our normal office hours, which are Monday to Friday 10.30am to 4.30pm.