AVAILABLE ON THE NATIONAL ELF SERVICE
Christmas in London is a special time.
The lights of Regent Street and Oxford Street, the colourful shop displays, the atmosphere and the general camaraderie with which the very streets appear to be imbued and the feeling of goodwill that exists towards all men and women - unless, of course, they happen to be your competitors in the Christmas Lights Treasure Hunt.
If that's the case, well, the night may well end up far from silent as the competitive edge is sought as teams seek to gain the upper hand in our little town of London that might not sweetly lie!
There will be lots of mistletoe and plenty to whine about as teams attempt to outwit each other and pick their way around a route that will be liberally sprinkled with the flavour of the festive season.
It makes a perfect pre-Christmas lunch or dinner event and offers true value for money, leaving you with more of your budget to spend on your Christmas festivities.
---
"OUR TEAM HAVE NEVER ENJOYED AN EVENT SO MUCH"
I just wanted to write to you to say thank you for making our Xmas party so amazing!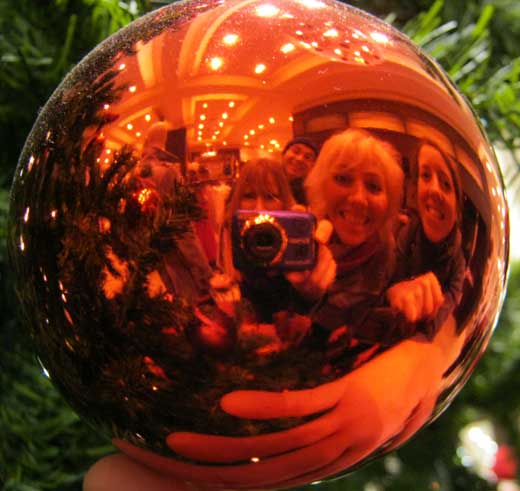 I have never seen our team enjoy an event, be so competitive and laugh so much!
The packs were self explanatory, very well presented and the right balance of challenging and fun!
At one point my husband's team thought they had all the things to collect, except when they checked the list they saw it said 'white beard' and they had bought 'white bread' they thought it was hysterical!
Many thanks again – and we will definitely be returning next year!
Amanda and all at Lifeline IT
---
VIEW LONDON FROM A DIFFERENT PERSPECTIVE
Our Christmas Lights Treasure Hunt will take participants through some of the most fascinating and seasonally colourful parts of London as well as introducing them to some secret and hidden places that they would never dream still existed.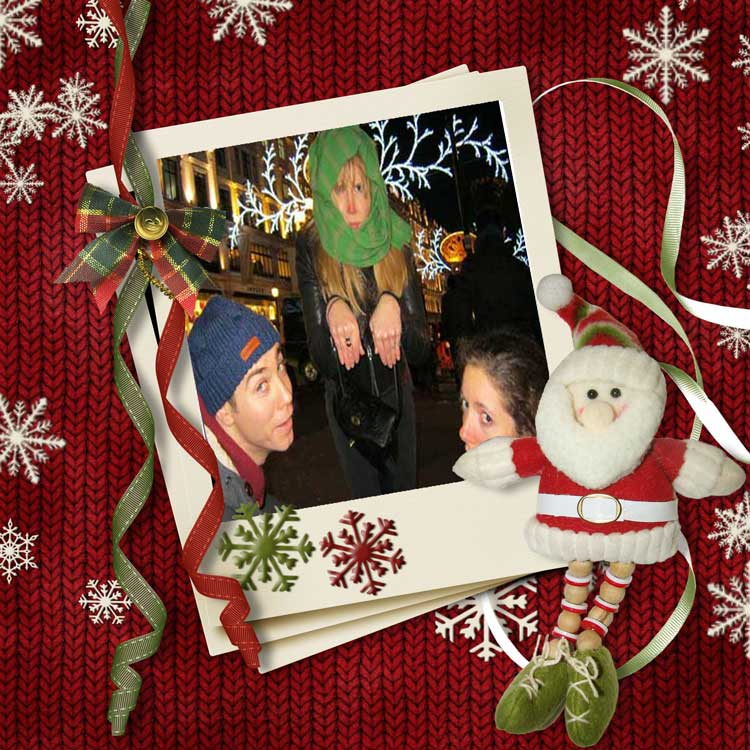 From the colourful spectacle of one of London's grandest theatres to the hidden mystery of one of its most tucked away alleyways.
You'll see the West End shops decked out in all their Christmas splendour and even have the opportunity (or should that be challenge?) of hunting for clues hidden amongst their colourful window displays!
Fabulous squares and regal palaces; wonderful old pubs and sedate gentleman's clubs; tinseled teasers and seasonal pleasers; fun, frolics and fascination - this treasure hunt has it all.
Throw into this eclectic mix our special seasonal scavenger hunt and pose round and the result is a rich brew of festive frivolity that will keep the teams both challenged and entertained from start to finish.
Indeed, there will be so many twists, turns and surprises that the whole event will seem like one giant Christmas party on the streets of the West End!
DING DONG MERRILY ON EYE
One of the great things about the West End of London at Christmas is just how colourful the streets and buildings are.
In short there's so much to see, and so much to do.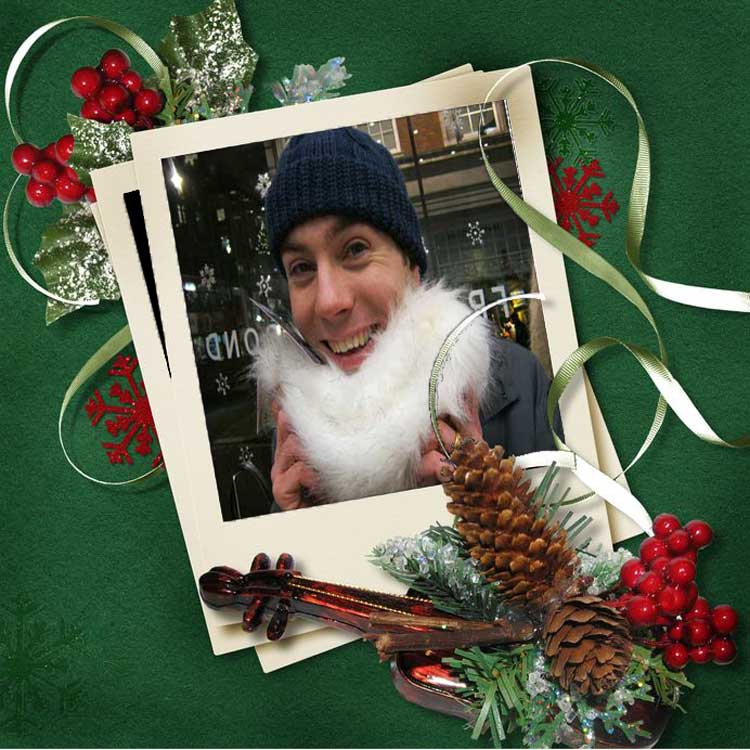 Our Christmas Lights Treasure Hunt is all about observation.
You will need to keep keen eyes peeled as you look out for the local landmarks - and they could be things like the Christmas lights themselves, the displays in shop windows, statues, buildings, lampposts or even street names - that will guide you around the route that you must take.
But you'll also need to be on the lookout for answers to questions, not to mention locations that could provide the backcloths for your Christmas poses.
Yes indeed, there won't be a single idle moment on the treasure hunt, you and your team members will find yourselves occupied for the entire duration!
THERE ARE FOUR SETS OF CHALLENGES
Each treasure hunt pack comes with a detailed set of briefing notes that outline the challenges that the teams must tackle as they make their way around the route.
CHALLENGE ONE
THE CRYPTIC CLUES
The sheet of cryptic clues, that the teams use to find their way around the route, are visual clues.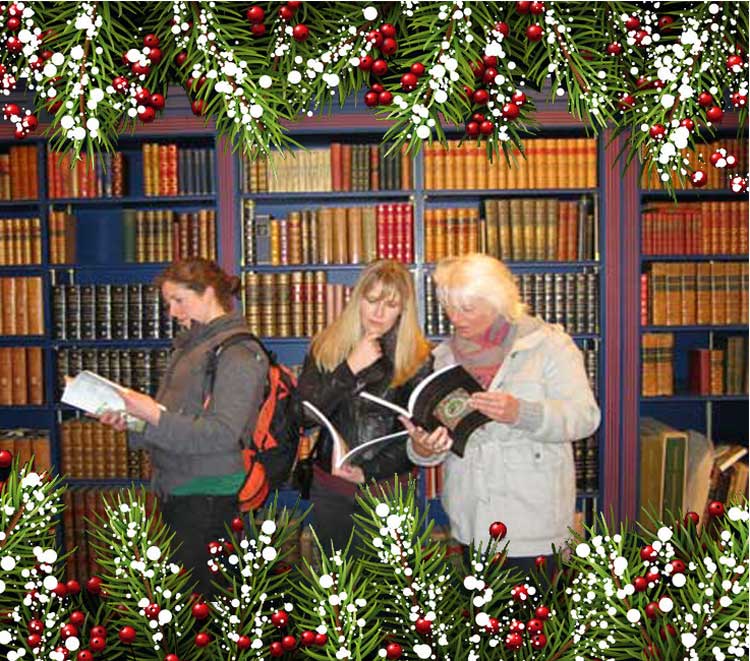 No knowledge of the area, nor of the history of the area explored, is required.
The teams will have to read the clues - and we do mean read as opposed to just scan them quickly.
Then, they must look for what the clue is telling them to head toward - if they have read the clue properly it will be quite obvious. At the end of each clue they will find an item - it might be a plaque, it might be a statue, it might even be Santa himself - from which they will deduce the number or the letter of the next clue that they have to follow.
In this way the teams will find their way around Christmas Lights Treasure Hunt route and will really become acquainted with the area it explores.
CHALLENGE TWO
THE OBSERVATION QUESTIONS
The next sheet consists of 20 observation questions which pertain to things that the teams will pass as they make their way around the treasure hunt route.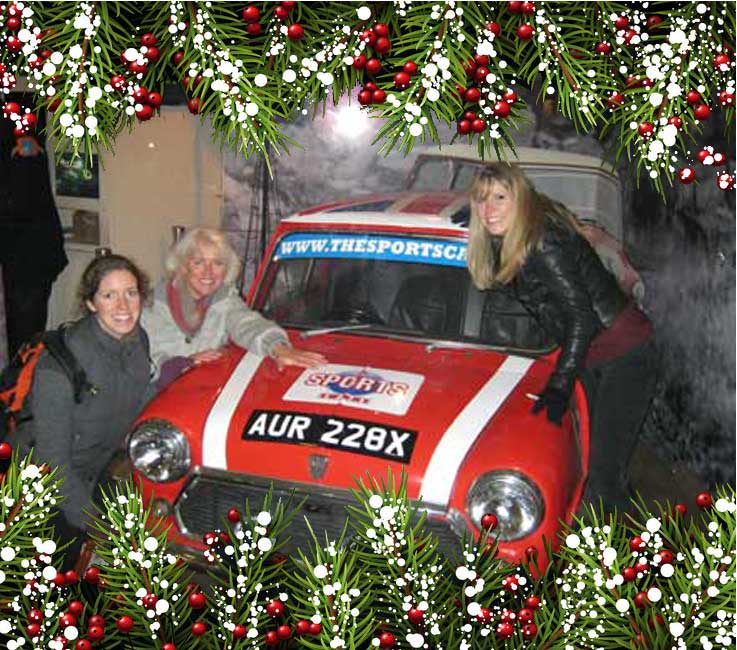 They're most certainly out there, somewhere, the question is kind you find the cunningly concealed places the answers are located in or around?
Some might be slightly off the route, or hidden down a passageway or even in one of the churchyards passed on the route.
Each correctly answered observation question is worth 100 points.
So by taking note of their surroundings and ensuring that no hidden nook or cranny is left unexplored the teams will be able to acquire points as they go round and in so doing bring themselves that little bit closer to being the wining team at the end of their adventure as they shimmy down the chimney of the final venue.
THE SCAVENGER CHALLENGE
DECK THE HALLS
The third sheet is a sequence of 10 Scavenger challenges pertaining to items the teams will have to collect as they race around the route.
Obtaining them may prove a bit of a challenge, but having acquired them you will derive a true sense of achievement, not to mention a great deal of fun when asked to play a Christmas carol on one of them!
Now some of them will prove an absolute doddle to acquire. I mean, what can be difficult about obtaining a white beard in the West End at Christmas?
Others might take a little thought as you rack your collective memories to remember what it was that my true love gave to me on the whatever day of Christmas.
Some will, most certainly, require a little - well, alright then a great deal of - creativity and ingenuity.
Whilst some of them may have you scratching your head in total bafflement. Let's be honest acquiring something that an esotropochic would hate to get for Christmas, well let's just say that even Santa might be hard pushed on that one!
A CHRISTMAS MEMORY
FUNNY AND CHALLENGING POSES
The final sheet is the 'Pose Sheet' in the course of which teams will need to get themselves into all manner of bizarre and creative poses.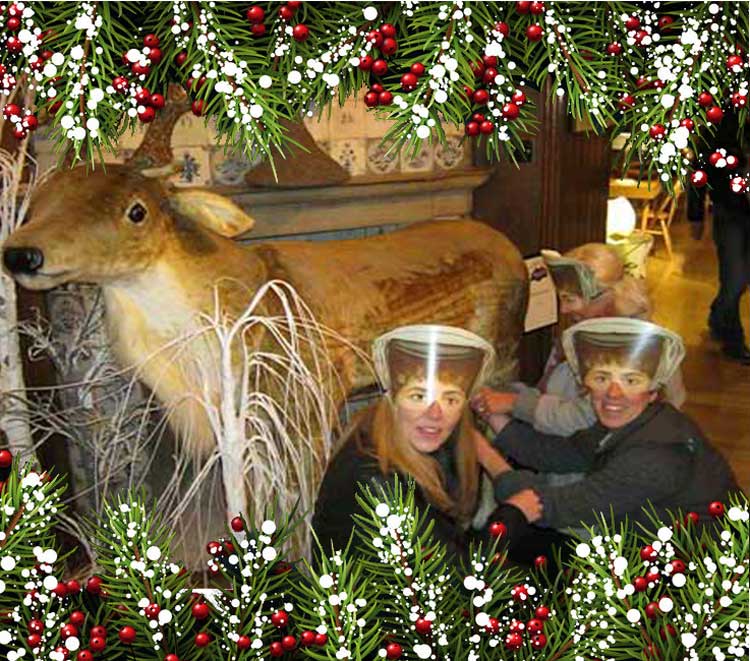 You will need to ensure that each of your teams has either a mobile phone or a digital camera, or you can provide them with disposable cameras.
As the teams weave in an out of the alleyways they must photograph themselves or get photographs taken of themselves in all manner of fun poses.
Standing next to a person in uniform might not prove too much of a challenge, nor for that matter much frivolity.
Cramming your entire team into a phone box and persuading a passerby to record the achievement for posterity, well, where's the challenge in that?
But sitting on Santa's lap, or imitating an angel, or kissing a celebrity under the mistletoe - well............enough said!
The result will be that, by the time you cross the threshold of the final venue, you will have a fantastic set of truly hilarious memories to provide you with a lasting souvenir of your 2019 Christmas celebrations.
WINDOW SHOPPING AND CHRISTMAS TREE SPOTTING
As far is possible the challenges are based around a yuletide(ish) theme.
So, in addition to the lights of Oxford Street, Carnaby Street and Regent Street, the Christmas Lights treasure hunt also makes use of the wonderful window displays in stores such as Liberty, Hamleys and Fortnum and Mason.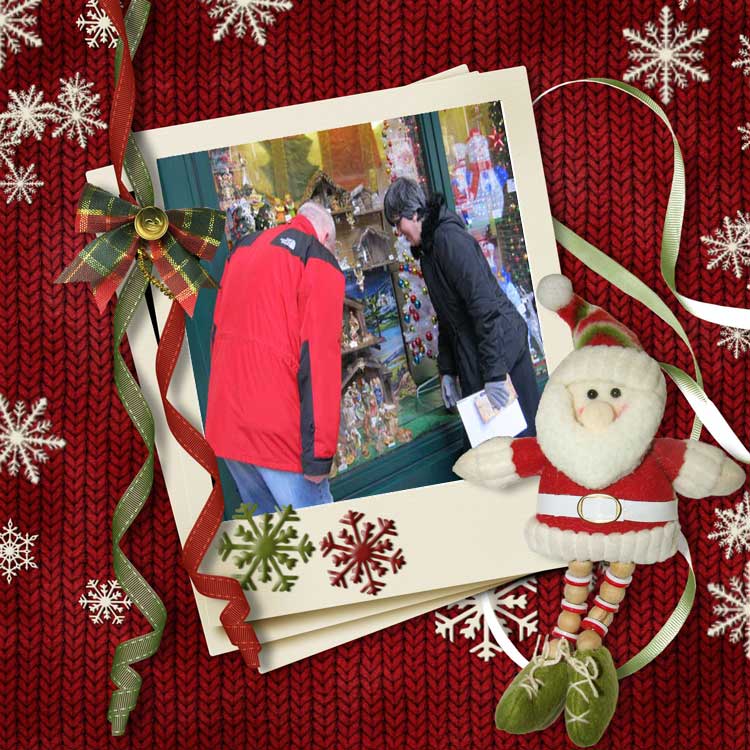 Each year, these West End emporiums pull out all the plugs and give the creative energies of their collective window dressers free range to create some terrific visual festive feasts.
And, boy-oh-boy, do those wondrous windows erupt into colourful profusions of Yule-tide colour!
So much so, that, year after year, we're able to include some of the items on display in the Christmas treasure hunt; and finding them amidst the baubles, holly and sparkling decorations makes for a truly challenging endeavour that is both rewarding and enjoyable.
A final element that really does ice the cake, so to speak, is the inclusion of some of the Christmas trees that magically spring into life around this time of year all across the streets of the West End.
What could be more festive than perusing a pine to pick off the answers to several challenges that we somehow managed to hide amongst the evergreens?
NO PRESENTS FOR FINISHING FIRST
No points are awarded for the team that finishes first.
Indeed, one of the things that makes our Christmas lights treasure hunt such a treat is the fact that you don't have to race through the streets in order to stand a chance of being on the winning team.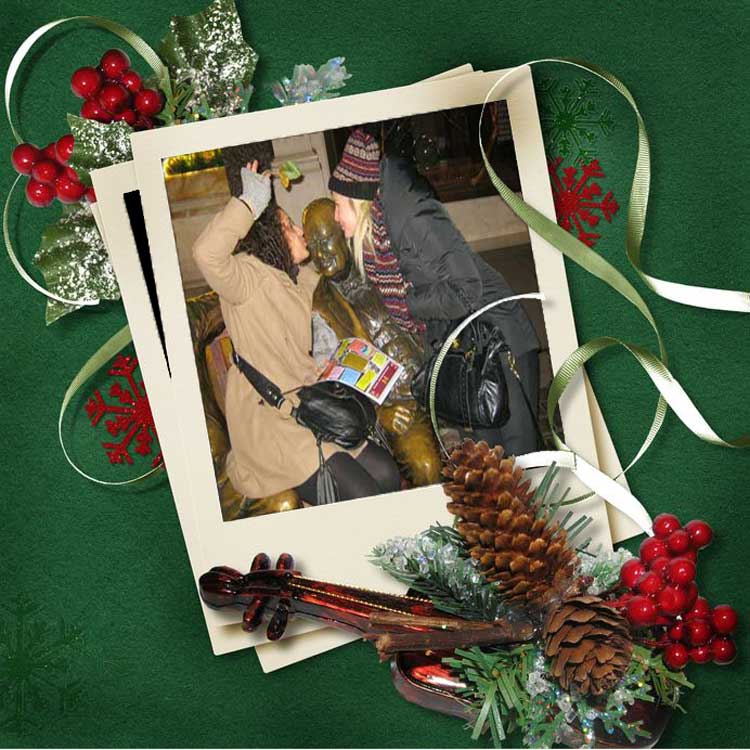 In fact, we emphatically discourage racing.
Instead, we encourage the teams to take their time in order that everyone can enjoy a gentle and relaxed stroll along what is a truly fascinating route.
The points are awarded for the three challenges - observation questions, scavenger round and poses challenges.
Each one of these sheets contains a set of cerebral (well tricky at least!) challenges that the teams must accomplish as the race around London in search of Christmas glory.
But, don't worry, none of them are too difficult; they just require you to be on the look out at all times, lest one of our cunning conundrums sneaks past you and robs you and your team of the opportunity to be crowned the Christmas Lights Treasure Hunt Champions of 2019!
OH WHETHER YOUR TEAM DOES FRIGHTFUL
So, whether you are looking for a pre-Christmas lunch or dinner event, an evening event that will get yourself, your friends and work colleagues out onto the streets of London, or even an enjoyable pre-Christmas social gathering, our Christmas Lights Treasure Hunt will provide you with a memorable and challenging outing that will keep you Ho Ho Ho-ing all the way to the final venue, even if the weather outside is frightful!
WE WILL NOT BE OFFERRING A CHRISTMAS LIGHTS TREASURE HUNT FOR 2021
THE CHRISTMAS LIGHTS TREASURE HUNT WILL RETURN IN 2022
The basic treasure hunt package consists of 4 treasure hunt packs, which is sufficient for 4 teams.
The cost of the Christmas Lights Self Managed Treasure Hunt Package is £150.00 for 4 packs. Additional packs cost £16.50 per pack.
If you require more than 4 packs please click on the exact number of packs you require by using the drop down arrow on the right of the order box.
You will then be taken to our secure online payment page. You can either pay by credit or debit card, or, if you would prefer, with your Paypal account.
Our Self Managed Treasure Hunts are a Zero rated VAT supply.
If you would prefer to order by phone, or you require urgent delivery, please call us on 020 8530-8443, during our normal office hours, which are Monday to Friday 10.30am to 4.30pm.