TIME WARPS AND STREET ART
There is no doubt about it. The area of London that you will explore on the Waterloo and South Bank Treasure Hunt is as varied as it is fascinating.
One moment you'll be walking through time-locked streets that have changed little in over a hundred years, the next you'll be standing open jawed with amazement at some of the most incredible and stunning street art imaginable.
When you add in one of the most vibrant and diverse riverside walk ways on any reach of the Thames - well, to put it mildly, the stage is set for a memorable exercise at the end of which you'll be hard pushed to decide which of the many highlights was Numero Uno on a challenge that is, to say the least, brim-full with Numero Uno highlights.
In short, when it comes to treasure hunt routes, this one is up there with the best of them.
SURPRISES ABOUND AND SECRETS AWAIT
Whether it's the hidden streets of terraced workmen's cottages that nestle, almost hidden from view, just a stone's throw from Waterloo Station; or the breathtaking street art that occupies every square brick (well actually they're rectangular) of the amazing Graffiti Tunnel that passes under the station; or the stunning views of the London skyline on the opposite side of the River Thames; this treasure hunt is crammed full of surprising locations.
Yes, we collide with the 21st century every so often, but these encounters with modernity somehow seem to enhance the surprises when we come upon them, as they're often in the last place you'd expect them to be.
But, isn't that what a good treasure hunt should do?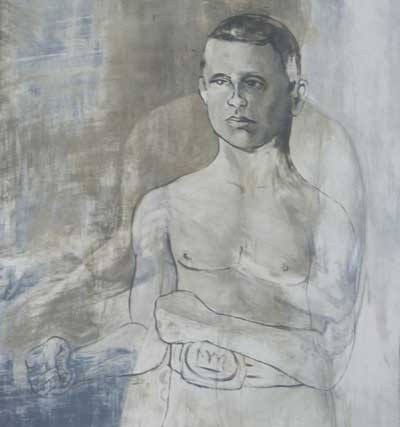 Challenge your perception of your surroundings? Lull you into a false sense of security? Convince you that there's nothing that surprising in the vicinity? Get you believing that all is, well, just very mundane and very familiar?
Then it happens. You turn a corner, or duck down a narrow court or alleyway and, suddenly - KAAAPOWW, WALLOP, BANG, BOOM, BIFF - everything changes, and you find yourself confronted by something that, quite simply, knocks your socks off - visually at least!
And, be in no doubt, we do plenty of that on the cunning route we've devised for the South Bank Treasure Hunt.
In short, you'll enjoy so many sock knocking off moments that your visual socks will be threadbare by the time you come to rest your feet at the final venue.
But, of course, this isn't simply about knocking your socks off, it is about making you see your surroundings from a different perspective; challenging you to look and notice - as opposed to simply scan and dismiss - in order to find the solutions to cunning clues, tricky observation questions and devilishly obscure photo challenges. And, to do so, you will need to look, to really look, in order that not one of them slips past you unnoticed and, more importantly, unanswered.
AN AMAZING WARREN OF TIME-LOCKED BACKSTREETS
But there will be distractions.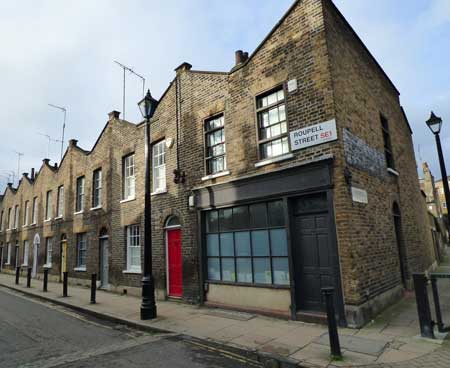 For example, very early on in the Waterloo and South Bank Treasure Hunt, you will step back in time when you enter a delightful enclave of terraced cottages which has remained virtually untouched for more than 150 years.
Picturesque, Grade II-listed terrace houses, that date back to the 1830s, will line your way, and they might well look familiar as they've frequently featured as television and film backdrops, including an appearance in the Kray twins biopic Legend, starring Tom Hardy.
Indeed, so magical is this forgotten little corner that you'll most certainly want to come back for a second look at a future date - that's guaranteed.
THE INCREDIBLE GRAFFITI TUNNEL
By total contrast, but equally breathtaking in a different sort of way, is the amazing Graffiti Tunnel through which you will pass through at some stage in your treasure hunt quest.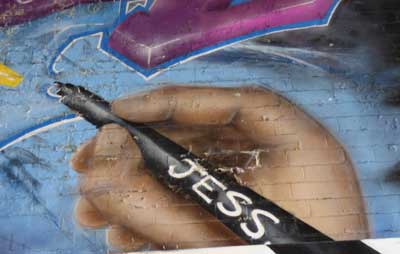 Started by the elusive Banksy in 2008 as an art display - the stated aim of which was to "transform a dark forgotten filth pit" into "an oasis of beautiful art" - it has since become a magnet for street artists from all over the World, and anyone with a tin of paint and a modicum of artistic talent, can, and does, make their way here to legally use the brick work as a canvas on which to create some stunning urban art.
It's a truly special place of rare and unique beauty. Heck, I'm almost tempted to call it the Louvre of street art, but that would be corny, so I won't!
But, more importantly, will you be able to find the cunning solutions to the clues and observation questions that are located amongst the artworks?
DO YOU KNOW....
What Elizabeth Peache's husband did in October 1818?
Who was Prime Minister of England in 1829?
Where you will find a "Prophecy" about Europe?
Why Dave Squires was so loved locally?
Which chains now support the Clifton Suspension Bridge in Bristol?
How many English men and women fought in the Spanish Civil War?
No? Well don't go losing sleep over this deficiency of knowledge, because there's a high likelihood that if you don't know the answers, then neither will your opponents.
And, anyway, by the time you reach the end of the treasure hunt you'll know the answers to these teasers, and to many others besides. At least, you will if you can find them!
WHAT WILL YOU SEE?

In all honesty, the South Bank treasure hunt route is a fantastic combination of old and new London.
In addition to aforementioned Georgian terraces and very 21st century Graffiti Tunnel, there'll be a remarkable riverside section that will have you spoilt for choice as to what you should look at next.
You'll step through an, almost, secret gate to find a spacious churchyard located in the unlikeliest of settings.
You'll stand outside the very window through which is the studio from which ITV1's This Morning is broadcast to an eager nation.
You'll encounter a school that was set up as a direct result of the Titanic tragedy.
You'll dip into out of the way of old alleyways and sinister tunnels where items of immense curiosity will be awaiting discovery.
And, if all that isn't sufficient to get the synapses well and truly tingling, then how about the remnants of one of London's greatest festivals that are dotted along one section of the route?
ENJOYMENT AND DISCOVERY

But, above all else, you'll enjoy a few hours of genuine discovery, in the course of which you'll look up, down and all around, to seek out intriguing bits of information that will give you sufficient fodder to dine out on for months, if not years, to come.
And you'll find so many intriguing and secret places that, once you've delved into this fascinating area, you'll be itching to bring your friends and family here so that you can show off your new found knowledge and introduce them to a part of London that is, in its own way, every bit as fascinating as the better known, well trodden places that everyone has heard of and been to.
And, when you think about it, that's just what good team building should be about - a group of like-minded individuals who can explore and discover together and who, in the nicest possible way, can use all their powers of deduction and observation to trounce the competition and emerge from the fray as the overall treasure hunt winners!
HOW TO ORDER THIS TREASURE HUNT
The basic treasure hunt package consists of 4 treasure hunt packs, which is sufficient for 4 teams.
If you require more than 4 packs please click on the exact number of packs you require by using the drop down arrow on the right of the order box.
You will then be taken to our secure online payment page. You can either pay by credit or debit card, or, if you would prefer, with your Paypal account.
If you would prefer to order by phone, or you require urgent delivery, please call us on 020 8530-8443, during our normal office hours, which are Monday to Friday 10.30am to 4.30pm.