OLD LONDON AT ITS BEST AND WORST
Imagine a Victorian market surrounded by quaint old shops that date back to the 18th century.
Picture a gleaming white church the soaring walls of which have dominated their surroundings for over 200 years.
Think of yourself wandering along cobblestone streets that are lined by sturdy old houses that have changed little since the days when Jack the Ripper walked this way, leaving a trail of bloodshed and panic in his menacing wake.
How about the chance to discover traditional old East End Pubs that still possess the true ambience of "locals?"
Or enjoying some of London's finest street art, perhaps even watching it being created by an internationally renowned hipster artist right in front of your eyes?
It's time to stop imagining, because all these things, and many more besides, combine to help make our Spitalfields Treasure Hunt a memorable and special event.
CHALLENGES AND CONUNDRUMS

The hunt features our tried and tested mix of cunningly conceived cryptic clues, carefully concealed observational challenges, and brain teasing photo challenges, all of which will require the teams to keep a keen eye peeled throughout, as they will never know when the solutions to al these conundrums might present themselves.
And, given each item that must be uncovered is located in an area that is renowned for the history of its surroundings and the trendy hipness of its street art, there will be lots of distractions to entice teams away from the task at hand and lead tem far from the path of rightness!
But, by resisting the temptation to stray too far into the world of coolness and curiosity, participants might well find themselves on the team that stomps home to victory, and, having done so, they will be able to truly savour the delight of returning at a future date to take a closer look at the wonderful things that they will have discovered in the course of the treasure hunt.
LOVELY OLD ALLEYWAYS AND HIDDEN PASSAGEWAYS
From the moment you set off you are pitched into a charming sequence of narrow alleyways in which you must seek out all manner of strange and cryptic clues.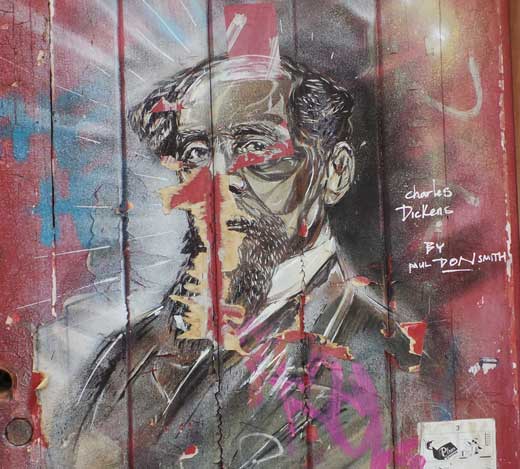 Throughout the entire Spitalfields Treasure Hunt each corner turned will open up new vistas that present you with surprise after surprise.
The private residential back roads, for example, that are trapped in a bygone age and where you wouldn't be in the least bit surprised if Jack the Ripper were to round the corner and (hopefully!) hurry past you.
Then there's the wonderful Spitalfields Market itself where an eclectic mix of craft stalls and bric-a-brac stalls nestle cheek by jowl alongside stalls that serve up a rich array of ethnic foods and delicacies.
And we've not even begun to tell you about the old brewery, older church and even older alleyways all of which are included in one way or another on your quest and all of which will help make your Spitalfields Treasure Hunt such a fascinating, enjoyable and memorable occasion.
From here the Spitalfields Treasure Hunt takes you further into the area and introduces you to some magnificent old buildings that are both historic and fascinating.
Dotted around the walls, hidden behind rusty railings, or perched high on the ancient rooftops are plaques, information boards, statues and memorials that have been utilised to provide you with a sequence of cryptic clues, observation questions and photo challenges.
HIGHLIGHTS OF THE TREASURE HUNT INCLUDE
A cobblestoned hill along which people have been making their way into the City of London for nigh on six hundred years.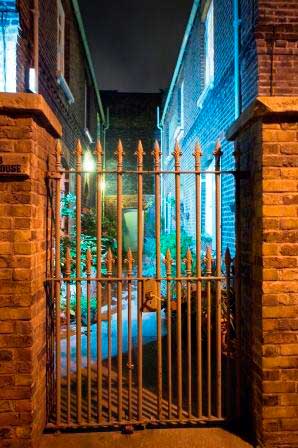 Wonderful examples of modern street art that adorn many of the walls that you will pass.
A little changed 18th century passage that has been used as a location for numerous television dramatic reconstructions of the Jack the Ripper story.
An 18th century sun dial high up on the wall of a building that has seen time as a Methodist chapel, a Synagogue and a Mosque.
The old pub where several of Jack the Ripper's victims had been drinking on the nights they were murdered.
A buried medieval chapel that only came to light during recent building work in the area.
The old Huguenot houses that will transport you back to the long ago days when this area was a major producer of silks.
The old brewery building that was once the major employer in the area and which now houses an eclectic mix of restaurants, trendy bars and craft shops.
And, these are just a selection of some of the wonderful locations you will discover as you pick your way through the streets of Spitalfields - looking, observing, taking in and searching in order to not let one little piece of the area's rich tapestry of special, picturesque and fascinating places pass you by and go unnoticed.
SO DISCOVER ANOTHER SIDE TO LONDON

Whether you are looking for a team building activity for staff who work in the area, or seeking something "different" to do in London for a group of friends or relatives, the Spitalfields Treasure Hunt will most certainly show you another side of London.
Indeed, no matter what your reason for wishing to get out and about on the streets of London, this delightfully unchanged and often overlooked neighbourhood will most certainly fuel your imagination and you will want to return time and again to re-discover the places that our Spitalfields Treasure Hunt will introduce you to.
HOW TO ORDER THIS TREASURE HUNT
The basic treasure hunt package consists of 4 treasure hunt packs, which is sufficient for 4 teams.
If you require more than 4 packs please click on the exact number of packs you require by using the drop down arrow on the right of the order box.
You will then be taken to our secure online payment page. You can either pay by credit or debit card, or, if you would prefer, with your Paypal account.
If you would prefer to order by phone, or you require urgent delivery, please call us on 020 8530-8443, during our normal office hours, which are Monday to Friday 10.30am to 4.30pm.